Chelsea new signing Timo Werner today sat on the stands watching his new club squander it early lead to lose by two goals to one in a much physical F.A cup final in Webley stadium.
Werner signed from German side RB Leipzig for a whooping £47 Million just recently and therefore was illegible to play.
In 70th minute when arsenal officially took the lead through Pierre Aubemeyang well mastered technical finish, cameras went to Chelsea technical bench and Werner was seen glued on his phone .
Werner was probably busy doing his stuffs but social media DCIs were quick to point out hilariously what he could probably been doing on his phone.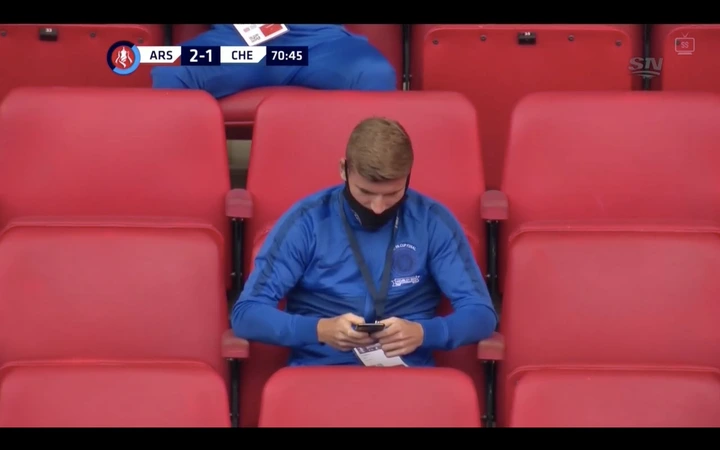 One twitter user went on to share some screenshots captured by his secret 'CCTV' cameras causing a stir online.
In one of his shots it could be seen Werner was contemplating on how to  advise Kai Harvertz Hasting up his contract with the blues .
In the second one Werner could be seen browsing on the cheapest flights to evade the shame that befell his team or tell Lampard what to do in order to equalize.
On thirds one he could be seen browsing on how bias English referee are and to protect his newly signed contract with the blues to avoid with some clauses bidding him to the club.