Nigeria's popular artiste, Davide Adeleke, popularly known as Davido, has stated he won't be visiting the United States of America any time soon following the tensions of a proxy war building up between the US and Iran.
The artist made his remark via his official status, criticizing Donald Trump's approach to the issue.
He called the entire power tussle a game of draft and made it clear that he doesn't want to be a victim of collateral damage should Iran strike the US during a potential proxy war.
Davido tweeted,
"Not going to America until the draft is over!! Crazy ass Trump tryna have me shouting Shekpe from Iran."
Recall that tensions in the Middle East escalated after Donald Trump ordered the assassination of Qassem Soleimani, who was the second most powerful man in Iran.
He was killed in Iraq on Thursday, days after the United States carried out airstrikes that killed 23 Iranians in Syria and Iraq.
Davido's tweet made him one of the numerous celebrities who have criticized Donald Trump's foreign policy towards Iran.
Cardi B also condemned the actions stating that she wants to head to Nigeria to become a citizen.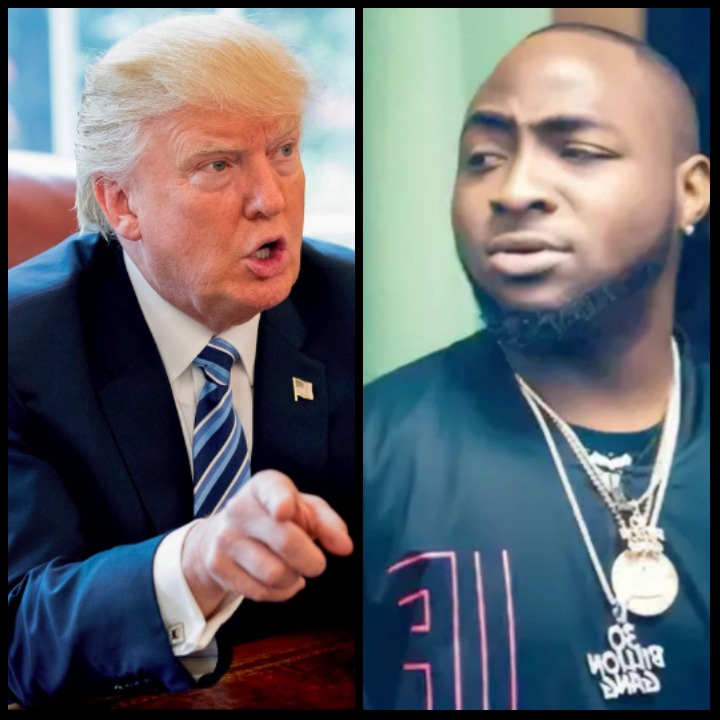 Popular Nigerian singer, Davido might just have shot himself in the foot after he insulted the President of the United States of America, Donald Trump.
The "Nwa Baby" singer raised some dust this morning when he joined the host of foreign celebrities like Cardi B and Meek Mill to call out Trump for his offensive strikes against Iran.
He called Donald Trump a crazy ass President and said he is not going to set foot in the United States until the war is over.
But what seems like fun to him has backfired as hundreds of Nigerians have thrown shades at him, calling him names, for insulting the American President.
This was his exact tweet via his official handle on Twitter, @Davido,
"Not going to America until the draft is over!! Crazy ass Trump is trying to have me shouting Shekpe from Iran. 😂"
A lot of angry Nigerians have reacted to his statement via a post written to this regard
+234-813152*** said,
"Davido shut up abegi. The fact you were born there does not give you the right to insult Trump or talk trash. He can stop you from entering the US. God placed the US above other nations to deal with this kind of situation, and there's nothing you can do about it. Nonsense. You are a full Naija guy, Americano like you."
Benedict Alexander said,
"You, this boy. I never liked your pride, but my little four years daughter likes you. WizKid is a very humble and quiet guy, unlike you. Your money is vanity, so just shut up and remain like a normal guy for your money doesn't freak me since no one in life can take his/her wealth to the grave. Abeg doesn't implicate Nigeria. Deal with your problem alone. Trump took the bold step. All terrorists must die in Jesus' name, Amen."
See other comments: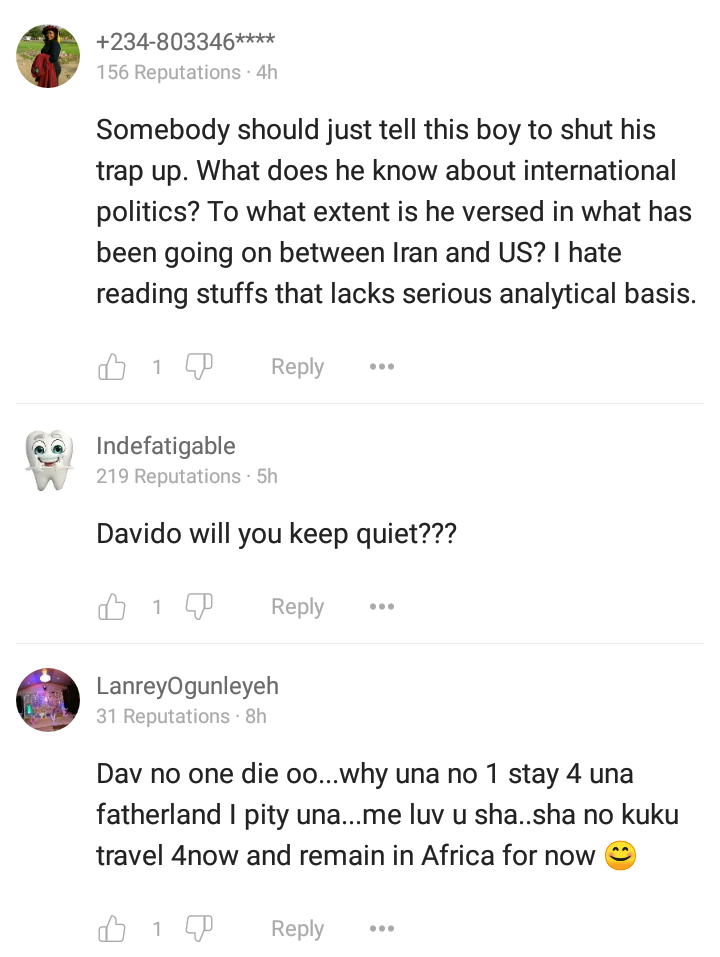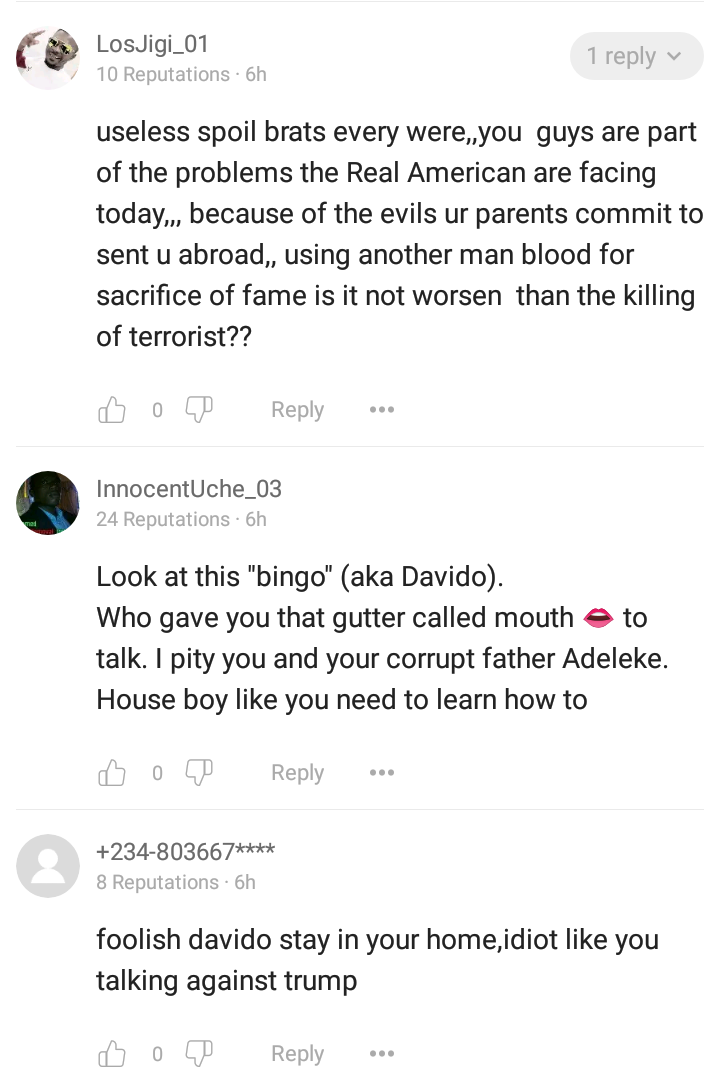 What do you think?
Is Davido right to have blasted Trump?