Kai Havertz has been linked with a move to Chelsea this summer, so Blues fans will have been momentarily shocked to see Heracles Almelo announce the signing of the Bayer Leverkusen star.
Kai Havertz has been 'announced' by Heracles Almelo as the Dutch minnows get involved in the German's ongoing transfer saga. Havertz is expected to move to Chelsea this month after agreeing personal terms and the Blues are said to be in negotiations with Bayer Leverkusen over a transfer fee.
The transfer has been a protracted affair, in part due to the two club's differing valuations of Havertz.
Leverkusen want £90million for the 21-year-old while Chelsea reportedly began their offers at around £70m.
LATEST LIVE SPORT TV DEALS
There was also the Europa League to consider, with Havertz playing for the Bundesliga outfit until they were knocked out of the competition by Inter Milan last night.
Transfer talks are expected to gather pace now that both Chelsea and Leverkusen are into their summer breaks, although Die Werkself boss Peter Bosz caused a stir when he suggested Havertz is on his way to Dutch club Heracles.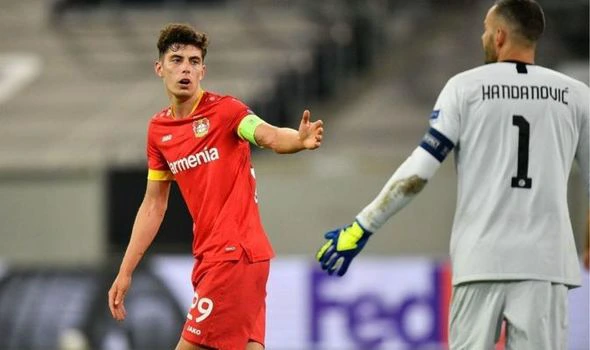 Following his side's 2-1 defeat to Inter in Dussedorf, Bosz was asked whether Havertz had played his last game for the club.
"Yes, I can exclusively announce he'll play for Heracles Almelo," said the Leverkusen boss, who previously coached Heracles in two separated spells.
And now the Dutch outfit have weighed in on the joke, posting a tweet of Havertz mocked up in their shirt accompanied by the caption "Welkom Kai" and the hashtag #AnnounceHavertz.
The tweet has proved a big hit with fans on the social media platform, while the replies are scattered with bemused supporters who didn't get the joke.
Havertz has been in superb form for Leverkusen this term, scoring 18 goals and providing nine assists across all competitions.
The German international has been labelled as one of the most exciting players of his generation, with former Leverkusen team-mate Roberto Hilbert likening the player to Michael Ballack and Mesut Oil.
"He is the next big, big player to come from Germany," Hilbert said.
"I was there when he made his debut in our team at 17. In this generation, I think he will be a game-changer.
"He is a really smart player, quick and he is a nice person.
"He has some things Ballack had, some things Ozil had but he puts it into one package which is what makes him so dangerous.
"I think he has a level of talent that nobody else has. When Chelsea sign him for the next years then I think it will be a great chance to help them win titles in the Premier League.
"That's how good he is. He worked hard, but he is a smart and humble person. That comes from his good family unit and he will continue to work hard and improve every day."